This inexpensive beauty can change your life.
The axiom "knowledge is power" holds especially true in the kitchen—the more you know about what's going on inside your food as it cooks, the more you can control the result. Our favorite, the ThermoWorks Thermapen Mk4, costs $99. ThermoWorks recently introduced an inexpensive alternative, the ThermoPop, so we put it and seven competitors to the test.
ThermoWorks ThermoPop
BEST INEXPENSIVE OPTION
WINNER- RECOMMENDED
This thermometer was fast, accurate, and easy to hold. It had a few cushy extra features, including a rotating display and a backlight, which came in handy for grilling. The ThermoPop is an excellent inexpensive alternative to the Thermapen.
Reviewed in Cook's Country April 2016
SPEED ★ ★ ★ ACCURACY ★ ★ ½ DURABILITY ★ ★ ★ EASE OF USE ★ ★
---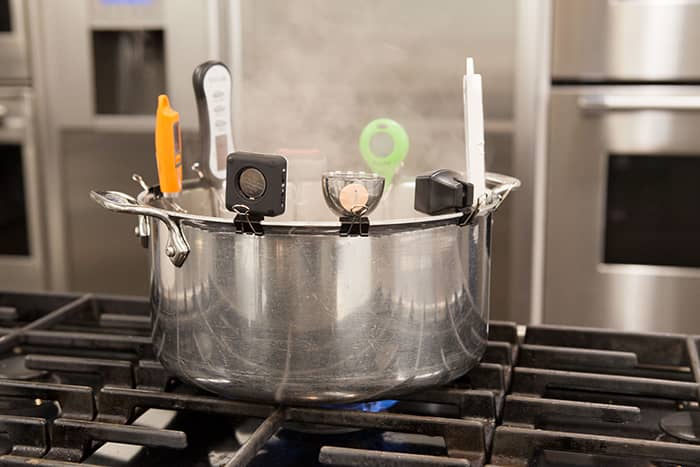 Which digital thermometers qualify as inexpensive,
and how did we put them to the test?
In selecting our lineup, we capped the price at $35 and included only models that read temperatures up to around 400 degrees, so they could be used when making foods such as candy and caramel. We ran the thermometers through a battery of tests, including taking the temperature of ice water, boiling water, roasted chicken thighs, and bubbling caramel.
---
How accurate?
An inaccurate thermometer is a nonstarter. Six of the eight models were indeed accurate.
How fast?
Most of the thermometers gave accurate readings in under 10 seconds, with the fastest ones clocking in at just over 6 seconds.
How'd they feel?
Testers found that three major factors affected how user-friendly the thermometers were:
---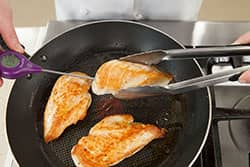 Length
All eight ranged from 5.75 to 8.75 inches long. Longer was better (hands are safer away from the heat, and we didn't have to fumble with potholders).
Grip
All eight had two basic parts—a long metal probe and a head with a digital screen. Some felt secure and ergonomic, while others allowed only dainty two-finger grips.
Visibility
Larger and clearer displays were best, as were models with screens situated on the side of the thermometer's head as opposed to on top, because they were easier to read at different angles.
---
The lollipop-shaped ThermoPop is our top pick for budget-conscious cooks.
✓ Accurate
✓ Fastest read time
✓ Long probe to protect from heat
✓ Comfortable, ergonomic grip
✓ Durable and heat-resistant body
✓ BONUS: Rotating display is easy for both right- and left-handed users to read
✓ BONUS: Backlight comes in handy for grilling at night
---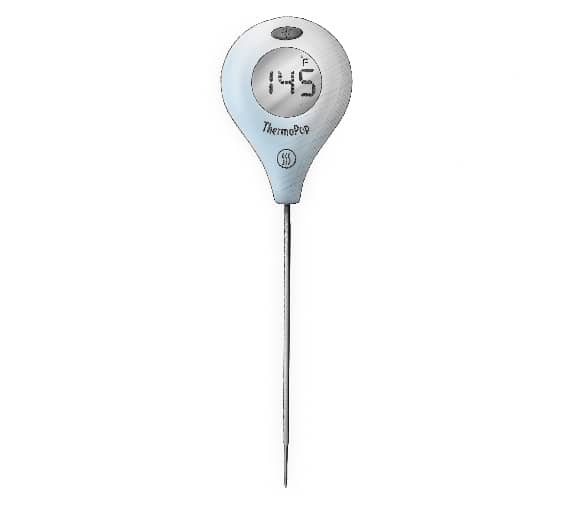 Fast: Readings in just 3 to 4 seconds
Every second counts in the kitchen. Get readings in a matter of seconds without skipping a beat.
Splash-proof: IP66 Rating
Splashes and spills happen. Confidently use ThermoPop knowing it keeps working through the mess, just like you do.
Ergonomic Design: Easy to Read & Use
With a large rotating display and backlight, you can use ThermoPop in your right or left hand, no matter your environment.
Guaranteed Accuracy: Accurate to within ±2°F (1°C)
Take the guesswork out of your cooking. Experience the confidence of knowing that the number on the display is the correct temperature.
Big backlit digits
Temp range: -58 to 572°F (-50 to 300°C)
Switchable °C/°F
5,000 hours of typical performance with included lithium battery, replacement batteries available
Designed in Utah by ThermoWorks
---