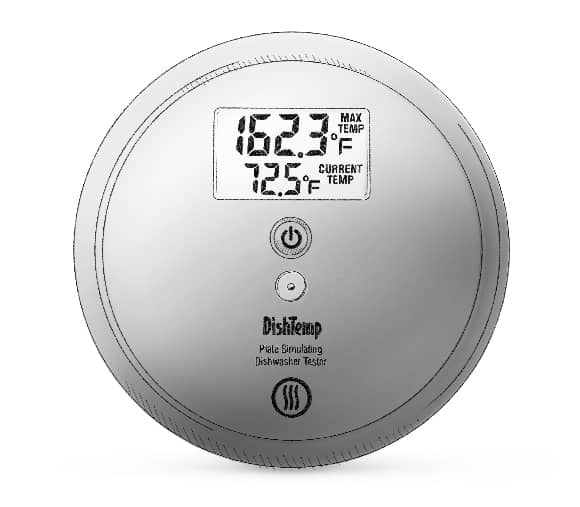 Measures True Plate-surface temperature
Shaped like a plate, DishTemp simlates the actual plate surface temperature as it rides through your dishwasher cycle.
Waterproof to IP66® probe
We built DishTemp with industrial grade materials for waterproof protection that holds up in a commercial dishwasher.
High Accuracy to ±0.9°F
With a digital sensor, DishTemp is more than twice as accurate as temperature strips.
Ranges up to 194°F
DishTemp can even ride along even the hottest of washes, the ones most of your standard strips can't handle.
Big, Bold Display
Read your max temperature and current temp, no squinting involved.
Records irreversible MAX temp of dishwasher
Eliminate costly and inaccurate thermal labels
Includes NIST-Traceable calibration certificate
Verifies compliance with FDA food code 4-703.11(B), for commercial dishwashers
Designed to ride along with a load of dishes, DishTemp simulates a plate and accurately and irreversibly records the max surface temperature experienced by dishware inside a commercial dishwasher. Engineered with molded-in, water-tight seals, using industrial grade materials, DishTemp carries an IP66 rating and comes with a NIST-Traceable Calibration Certificate so you know its accurate, and a 1-year warranty.
DishTemp eliminates costly and inaccurate thermal labels and stem thermometers that don't stay in place and don't accurately measure temperature at the plate surface. DishTemp complies with the FDA Food Code requirements for high temperature dishwasher testing using irreversible registering temperature indicators.
DishTemp only has one button. The power button resets the irreversible Max Temp reading before each cycle. Simply turn DishTemp on, toss it in with the other wares and view the max surface temperature after the dish cycle ends. Use during audits and daily logs.
Built to survive daily use inside commercial dishwashers, DishTemp outperforms every testing solution. Save time, save money, improve your work. Order now.