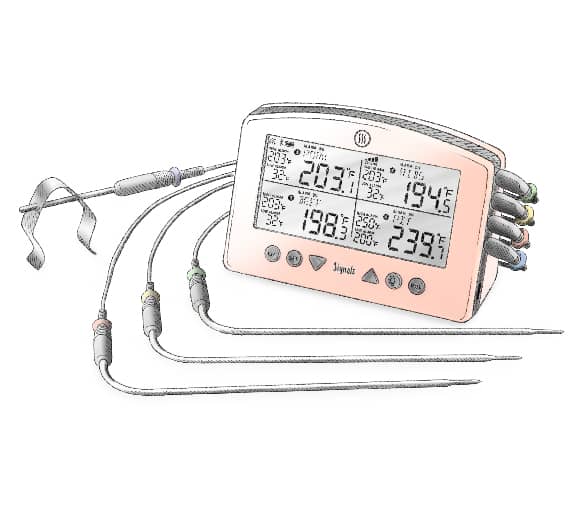 Wireless Connectivity: Monitor using your phone or tablet
With both Bluetooth and Wi-Fi built in, Signals broadcasts the details of your cook to whomever, wherever in the world.
4 Channels: Monitor your cooker and multiple meats
View all four channels, including High and Low Alarms and Min and Max temperatures for each, on the big, bold display or on your smart device.
Intelligent, Durable Design: Features that add up to quality and useability
Splash-proof molding for durable outside use, and magnetic backing for added placement options. Outlasts the competition by years.
Uses Pro-Series® Probes: Choose from 8 probe designs
Our probes are the most accurate, durable, and long-lasting in the industry. Add functionality to your Signals with additional probes.
Compatible with Billows: Use with our BBQ temperature control fan
Connect our Billows BBQ Control Fan to your Signals to dial in the cook temp in your BBQ pit hour after hour. Adjust temps remotely.
Works with ThermoWorks app and standalone
Stays in place with sturdy base and strong magnets on back
Backlit dashboard-style display to track temps, alarms, Min/Max
Rechargeable battery with included power adapter
Designed in Utah by ThermoWorks
Designed for competition BBQ teams, commercial smokehouses, professional chefs, and those who want to cook like them, Signals with built-in Wi-Fi and Bluetooth wireless technology boasts 4 channels of continuous temperature monitoring with all the powerful features and convenience you've come to expect from ThermoWorks.
Finally, a 4-channel alarm thermometer that works with your smart device AND as a stand-alone unit with physical buttons (so you don't have to soil your smartphone). Signals comes with both Wi-Fi and Bluetooth wireless technology onboard so you get a continuous signal and real-time alerts whether you're in a field or across town. Setup is quick and easy without ever needing to read the instruction manual. Signals stands apart from the competition, from its huge, backlit dashboard display and sturdy, self-standing weather-resistant case to its programmable channel names and new high temperature silicone color bands so you know at a glance which channel goes with which probe. Signals uses commercial-grade Pro-Series temperature probes exclusive to ThermoWorks to deliver better accuracy, faster response, wider temperature ranges and longer useful life. Cook more at once and worry less about the results with Signals.
Signals is designed to track temperatures over an extended period of time with moderate-heat cooking methods such as smoking, oven-roasting, deep-frying, homebrewing, and Sous Vide and to be used while grilling. Signals is not meant to be used in place of a digital instant-read thermometer, such as a Thermapen ONE or a ThermoPop, or used with broiling.
Wi-Fi and Bluetooth Wireless Technology Built In
With the flexibility of Wi-Fi and Bluetooth wireless technology built right in, you'll always stay connected to your smart device. Easy-as-pie setup unlike the other guys.
Free ThermoWorks App
Receive real-time alerts on the go with the ThermoWorks BBQ App on your phone or tablet. Customize channel names, set alarms, view and download graphs. Monitor multiple Signals or your ThermoWorks devices simultaneously using the same app.
Cloud Functions
Signals uses Wi-Fi to store your cooks in the cloud. Access your graphs, Max/Min readings, and alert history at any time in the app, or download them to your phone for archival storage. The cloud keeps a live record during your cooks allowing you to track your temperatures from any phone or tablet at the same time.
Four Channels
Accepts four probes. Comes with three Pro-Series High Temp Cooking Probes and one Pro-Series High Temp Air Probe for monitoring your pit temperature.
Pro-Series Probes
Signals works with all of our Pro-Series probes. ThermoWorks' Pro-Series Probes are the best in the business for accuracy, durability, and heat resistance. Get the confidence that comes with ThermoWorks probes and meters.
Easily Identify Each Probe
Input a different four-character name for each channel display (i.e Beef, Pork, Lamb). Plus, Signals comes with 8 High Temp Silicone Color Bands that roll onto each end of each probe, so you can see at a glance which input matches with which probe.
Also Works as a Stand-Alone Unit
Control all functions on Signals from your phone or with the physical buttons on the device. The big, bold dashboard-like display shows the channel name identifier, current temperature, high and low alarm settings, and alarm state for each channel, plus volume level, battery state, and wireless status. Control all functions on the unit with physical buttons or from your phone.
Water Resistant
Molded-in seals for splash-proof protection rated to IP66, safe for outdoor use. NO additional waterproof bags or cases needed.
Includes Battery and Power Adapter
Rechargeable battery delivers up to 16 hours of continuous use. Includes 12V USB power adapter and cord for plug-and-play or recharging the battery.
Designed in Utah by ThermoWorks