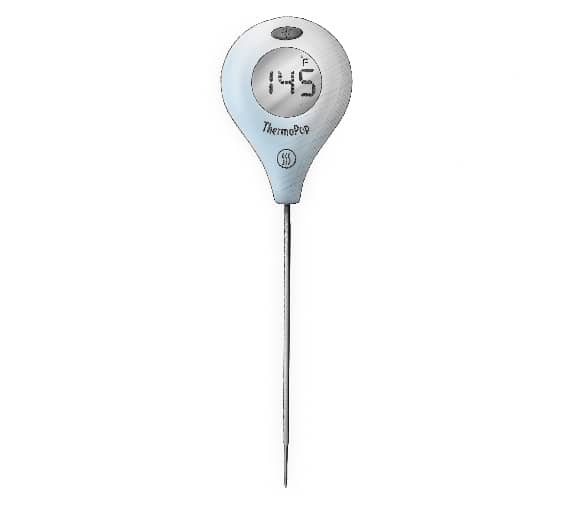 Fast: Readings in just 3 to 4 seconds
Every second counts in the kitchen. Get readings in a matter of seconds without skipping a beat.
Splash-proof: IP66 Rating
Splashes and spills happen. Confidently use ThermoPop knowing it keeps working through the mess, just like you do.
Ergonomic Design: Easy to Read & Use
With a large rotating display and backlight, you can use ThermoPop in your right or left hand, no matter your environment.
Guaranteed Accuracy: Accurate to within ±2°F (1°C)
Take the guesswork out of your cooking. Experience the confidence of knowing that the number on the display is the correct temperature.
Big backlit digits
Temp range: -58 to 572°F (-50 to 300°C)
Switchable °C/°F
5,000 hours of typical performance with included lithium battery, replacement batteries available
Designed in Utah by ThermoWorks
The first rotating display pocket thermometer, the ThermoPop is another innovation from ThermoWorks. A simple button press rotates the display in 90 degree increments. Hold the ThermoPop in either hand or read it when it's upside down. Any angle is convenient!
Super-Fast readings are within the final degree in only 3 to 4 seconds! Designed for serious chefs and professionals, the ThermoPop features big digits and a backlight for dark conditions. Molded-in seals and buttons make it splash-proof. Durable construction outlasts similarly priced pocket thermometers. Simple operation reduces user errors. Wide range is suitable for frozen foods and deep fryer testing. Accuracy is guaranteed to remain within ±2°F (1°C) up to 248°F (120°C). The ergonomic ThermoPop comes in 9 colors. If you're going to carry a thermometer in your pocket, get a Super-Fast ThermoPop.