ThermoWorks' Cal Lab A2LA Accreditation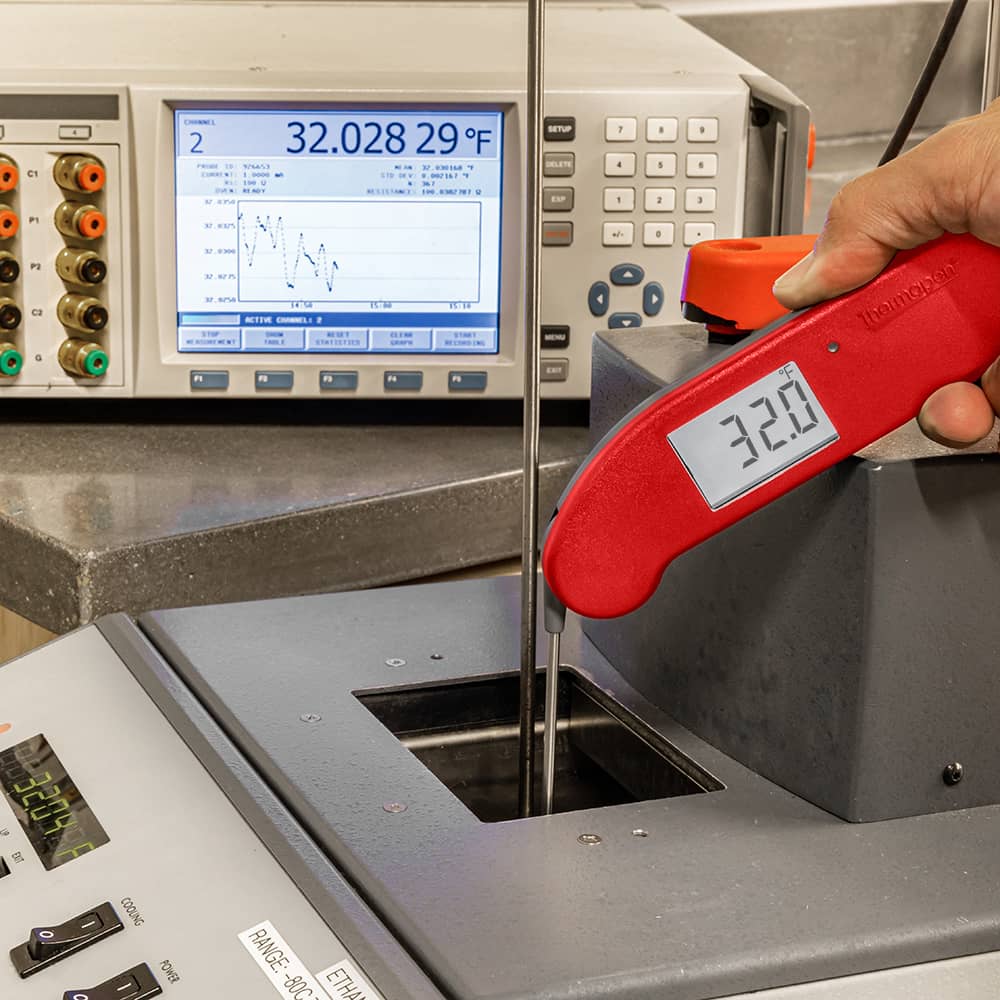 How do you know if your instrument supplier's calibrations are correct? Many in critical industries like foods, biopharma and aerospace are required to either audit a supplier's calibration service, or only purchase from suppliers that have an "accredited calibration service." Without this independent appraisal, the only way to be truly sure of the performance of each new instrument or sensor would be to seek a third-party calibration from an "accredited laboratory" after the instrument is purchased, a costly and inconvenient expense.
In 2001 the leading economies of the world reached an agreement to establish an international laboratory accreditation program whereby participating nations would each have their own accreditation body to evaluate and certify individual laboratories. An "accredited lab" provides calibration services that are mutually recognized as valid in any other participating nation.
ThermoWorks' Calibration Laboratory is accredited by A2LA (American Association for Laboratory Accreditation) and is thereby independently certified to perform calibrations within the boundaries of a specific scope of capabilities. These boundaries consider the facility, the equipment, the quality system and the technical proficiency of the lab staff. The accreditation applies to specific temperature ranges and types of instruments and gives specific uncertainty (or accuracy) limits. This internationally accepted accreditation assures the customer that calibrations performed within the lab's "scope" are authoritative declarations of an instrument's accuracy as traceable to national and international standards. ISO/IEC 17025 is the recognized international standard for technical competence of calibration and testing labs.
The ThermoWorks lab employs temperature baths with stabilities to ±0.001°C for accurate probe and thermometer comparisons. Our reference thermometer features a published accuracy to ±0.000015°C. When all uncertainties in our temperature calibrations are combined, ThermoWorks accredited scope assures calibration uncertainties to ±0.005°C. Humidity calibrations are also available with uncertainties to ±0.55%RH. Click here to review our full scope of capabilities.
Leading ThermoWorks calibration team is Thomas Wiandt. Tom's career spans decades of service to the U.S. Air Force, Southern California Edison, Hart Scientific and Fluke. Widely respected as one of the world's leading experts in temperature metrology, Tom was responsible for establishing and directing the operation of the world's highest precision private calibration laboratory at Hart Scientific (later acquired by Fluke Corporation), where temperature standards were manufactured for the world's leading metrology labs, including most of the world's top national labs. Himself a certified accreditation auditor, Tom now helps direct ThermoWorks ongoing commitment to measurement precision.
In the professional instrument market, most suppliers are not equipped with an accredited calibration service and the few that are, charge exorbitant fees. ThermoWorks commitment to top measurement performance at competitive prices drives our investment in world class QA systems and our accredited calibration lab.
* Several instruments and sensors sold by ThermoWorks come with an accredited calibration certificate demonstrating that the specific instrument was itself calibrated in the accredited ThermoWorks cal lab. Many of our instruments come with a "factory calibration certificate" that certifies that the product was calibrated in the factory against standards that are themselves calibrated in our A2LA-Accredited lab. Several low-cost products may not include any certificate however the customer can rest-assured that our internal QA system ensures traceable accuracy performance against in-house standards that are calibrated in our A2LA-Accredited lab. In all cases the customer may request that a specific instrument be directly calibrated in the A2LA-Accredited lab for a very competitive price.