7.7 billion+
Recorded Temperatures
Use Your ThermoWorks Cloud Account in Two Ways
Monitor Temperatures 24/7 from Anywhere
Make sure temperatures stay within optimal ranges for things that are important to you. Watch over everything from cold holding temperatures in restaurant fridges and freezers, to day-to-day temps in your cabin, greenhouse, or wine cellar.
Track Process Temperatures to Completion
When cooking or chilling takes longer than a few minutes, enjoy the freedom of moving on with your day with confidence that you'll be there when you need to be. Watch over processes like cooking BBQ meats in your smoker, fermenting and cooling homebrewed beer, or chilling ice cream.
How ThermoWorks Cloud Works
At a pre-set transmission interval, your Connected Thermometers transmit temperature readings via Bluetooth or Wi-Fi directly to the Cloud where they are stored...

You can access your stored temperature readings anytime and anywhere from either an internet browser or through the ThermoWorks app on your phone.
Access Cloud Through Web Browser or App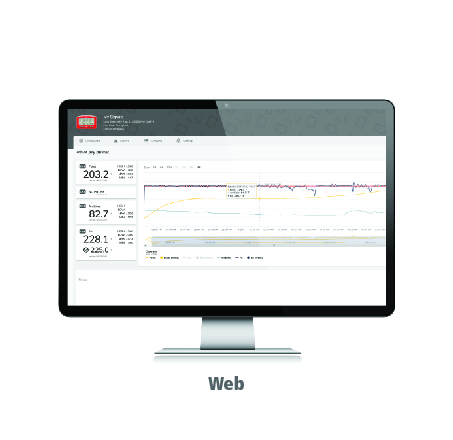 Take a deeper dive into your data and how you manage it.
Set SMS & Email Alerts
Detailed Temperature Graphs
Auto Archive & Export Data
Detailed Temperature Dashboard
Create Multiple Users and User Roles
More Customizability with Different Levels
Group Devices by Location
Find the perfect monitoring setup.
Choose your cloud...
*Default Transmission Rates
| Product | Default Transmission Rate |
| --- | --- |
| Signals, Smoke Gateway BBQ Alarms | 1 minute, 24-hour session limit |
| ThermaData Wi-Fi Data Logger | 1 hour |
| NODE | 30 minutes |
---
Which is best for me?
Fill out this short form to schedule a ThermoWorks Cloud Demo. You should receive a response within 24 business hours.
* Indicates a required field
Choose from Among Our Many Cloud-Connected Thermometers