ThermoWorks Cloud
---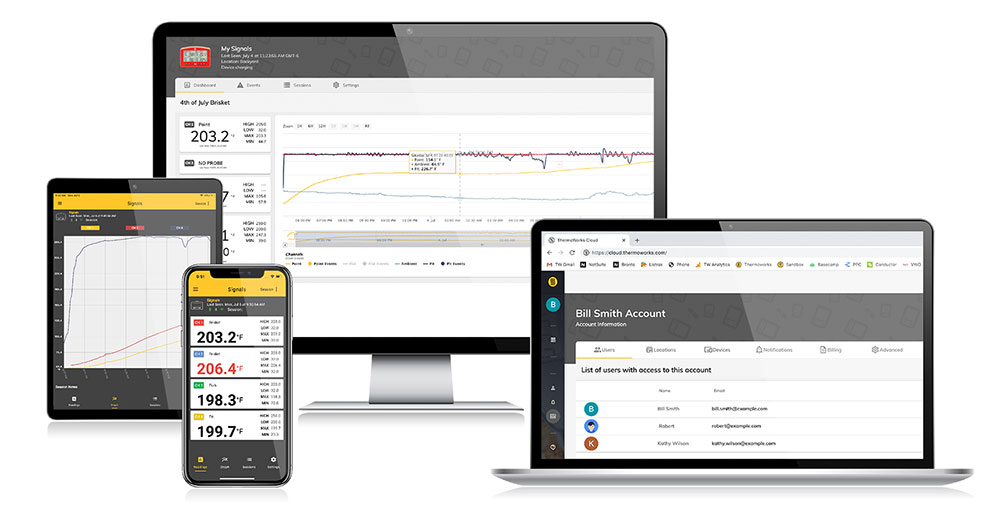 Request a Demo
ThermoWorks Cloud
Use ThermoWorks Cloud to monitor everything from restaurant fridges and freezers, to a smoker in the backyard. Receive alerts, graph your cooks, and take a deep dive into your critical temperature data. Whether you're using ThermoWorks Cloud at home or at work, we have a user level for you.
Fill out this short form to schedule a ThermoWorks Cloud Demo. You should receive a response within 24 business hours.
* Indicates a required field
---
TEMPERATURE DATA IN THERMOWORKS CLOUD
Whether you're monitoring fridge and freezers with ThermaData WiFi Loggers or your smoker in your backyard with Signals, your critical temperature data is securely saved to ThermoWorks Cloud—Compatible with all ThermoWorks Wi-Fi and BluetoothⓇ-enabled devices.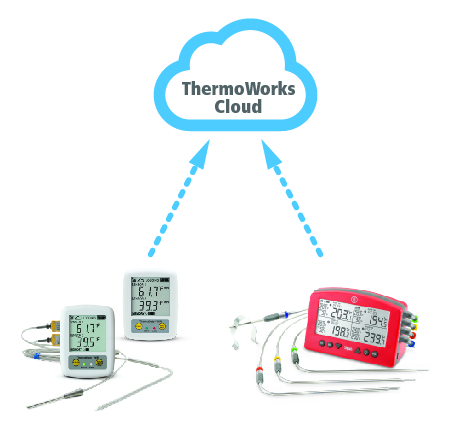 ---
ACCESS TEMPERATURE DATA ANYWHERE
Access the Cloud with your computer's web browser or with the ThermoWorks App. For more detail on your temperatures and more customizability, login to the web or if you like a simple way to view your data on the go, check out the ThermoWorks App. Either way, you'll be able to set and receive alerts, graph temperature data, and stay in the know with your critical temperatures.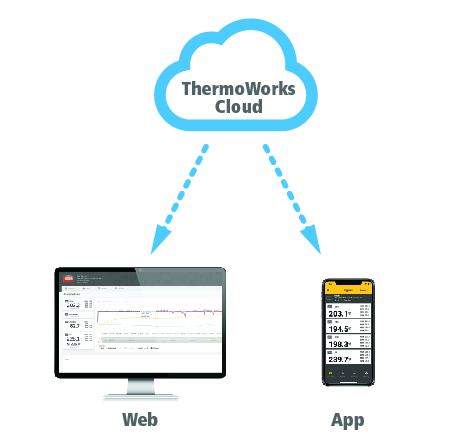 ---
ACCESS CLOUD THROUGH WEB BROWSER OR APP
---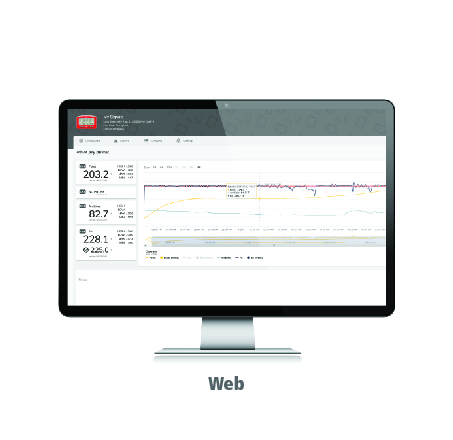 Take a deeper dive into your data and how you manage it.
Set SMS & Email Alerts
Detailed Temperature Graphs
Auto Archive & Export Data
Detailed Temperature Dashboard
Create Multiple Users, User Roles, and Locations
More Customizability with Different Levels
WEB ACCESS
---
HOW WILL YOU BE USING THE CLOUD?
---
---
ThermoWorks Cloud Pricing
Our most advanced tools with simple and affordable pricing (including free!)
Which is best for me?
---
Frequently Asked Questions
Q. Can I Export Data
A. You can export data and even create downloadable PDFs.
---
Q. How can I get alerts?
A. You can adjust your settings to receive alerts however you want through email, text, push notifications.
---
Q. Will I get an alarm notification between transmissions?
A. Alarm notifications are sent according to your sample rate. So you do not have to wait for the transmission interval before getting your alarm.
---
Q. What's the difference between Sample and Transmission Rate?
A. Your device will record a temperature reading on the sample interval and send the reading to the Cloud on the transmission interval