Guidelines:
We don't really like the word "policies." When policies are misapplied, they become "stupid policies." On the other hand, you probably want to know what to expect from us under normal circumstances. Here are our guidelines:
Office Hours:
This isn't a 24/7 "call center." It's a real office staffed by "ThermoWorkers." You can reach us by phone Monday through Friday: 6:00 AM to 7:00 PM, and Saturday from 8:00 AM to 5:00 PM Mountain Time. You can also leave us a message or send an email.
Toll Free in the USA & Canada: 1-800-393-6434
International: 1-801-756-7705
Placing Orders:
Use our website or we're happy to take your order over the phone. You won't pay a higher price for using the phone. If there is a web special, just mention it.
Gift Wrapping: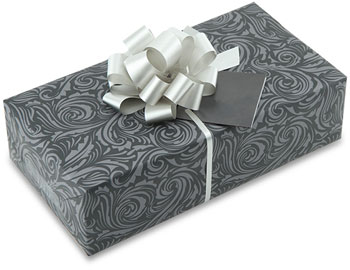 We'll wrap your gift in our custom gift paper, trimmed with a bow and gift tag. The rich, graphite and silver combination is suitable for any occasion or gender. Enter a custom message for the handwritten tag (up to 50 characters). Cost for wrapping is $4.99 per item. Each item wrapped separately. Selectable in the order info where available. Some items are not wrappable.
Registration & Privacy:
To checkout, you will be given the option to create a log-in. This offers you access to our customer center to view order history and to track order status.  You do not need to create a log-in to complete the checkout process. Your email will be used to send you the order confirmation and delivery tracking details. You will automatically be included in our monthly Thermapen drawing and receive occasional emails from us. If you do not want to receive emails from ThermoWorks, you may unsubscribe at any time at the bottom of each email. We do not share customer lists with any other organization – ever.
Promotions, Codes, and Discounts:
From time to time, ThermoWorks shares promotional codes for an additional percentage off a customer's next purchase. These codes can be entered into the Promo Code entry box in the Shopping Cart and are automatically applied if still valid. Note that these types of codes typically have expiration dates and that there are typically limitations as to how many products and which products can be discounted. Gift certificates, calibration services, and sale items are almost always excluded.
Payment:
All prices on our site are shown in USD. We accept Visa, Mastercard, American Express, Apple Pay, Google Pay, PayPal and Discover Card. Your card is billed at the time your shipment is processed, not before. Our website is completely secure and our accounting records are stringently protected to assure your privacy and security. If your credit card company declines the charge during processing, we will not ship your order and we will try to contact you right away.
Purchase Orders:
Commercial purchase orders are accepted by phone, fax or email. Net 30 day terms are available to government agencies, public school districts, and some commercial accounts with approved credit. Please call to ask about applying for an account. Allow a week for the application process.
Order Tracking:
To track your order status, you can access the customer center by entering your log-in information that was setup during your initial checkout.  Additionally, at the time of shipping you will be sent a shipping confirmation email with a tracking number.  Be sure to allow emails from "@thermoworks.com."
Shipping:
We use FedEx and USPS for all online orders and checkout through our shopping cart.  Rates are discounted.  For USA PO Box and APO addresses, FedEx requires a physical address.  We will change online orders to USPS for the same shipping amount to accommodate these special cases.  To request USPS specifically, you can call and place a phone order at 1-800-393-6434. (USPS rates are typically higher than FedEx Ground.)
International customers can select FedEx or United States Postal Service (USPS) worldwide services during checkout.
ThermoWorks does not drop ship for resellers.
Our Special FedEx Canada shipping method includes all local taxes, duty and transportation charges. There are no additional fees to pay the carrier when the package arrives. All packages are insured and include a tracking number when shipped from our warehouse in American Fork, Utah. Typical delivery is 3-6 business days. Be sure to select "FedEx Canada" as your shipping method. Otherwise you will be charged fees at the time of delivery.
Canadian customers may also choose FedEx International services. However, other fees will apply and will be collected on delivery (broker fees, duties, all taxes). 
More information on our shipping options.
International Orders:
We accept international orders. We may require some additional information from you before your shipment is made. Therefore, our same-day shipping time does not apply to international orders. If you are in a hurry, please make a note on your order or contact us by phone, fax or email. Local duty, taxes and brokerage fees, if any, are the responsibility of the customer. We cannot quote these. Due to contractual obligations, we may not be able to ship some products to specific countries.  Call for details.  
Out-of-Stock Items:
If any of your items are out of stock, you should receive an email from us within 1 business day. We can partial-ship your order or hold it until everything is in stock. We'll give you our best estimate of when that will be.
What's a "business day"?
That means Monday through Friday with the exception of U. S. holidays, and sometimes the day after or just before a holiday, such as the day after Thanksgiving, Christmas Eve or New Year's Eve.
Order Acceptance:
An order confirmation email does not constitute a contract to supply subject items. ThermoWorks cannot ship some items to some international destinations. All orders are subject to prior sale. Stock for limited offers may not be available at the moment you placed your order. Your order will be reviewed for acceptance within one business day. ThermoWorks reserves the right to decline this order. We will decline orders made for unauthorized resale of our products. If we cannot fulfill the order per the price listed or within a reasonable time frame, we will notify you within one or two business days. Under no circumstance will we fulfill the order with terms, items or prices different than listed here without your prior consent.
Returns for credit are only accepted from the original purchaser and only if the product is purchased direct from ThermoWorks. All warranty claims will be handled by ThermoWorks, regardless of where the item was purchased (do not return product to a retail store). In all cases, a return authorization number is required. You can get one by calling our toll-free number. Write this number on the outside of the shipping box.
We do not have a "buy-and-try" allowance policy. It is the responsibility of the customer to determine the suitability of a product prior to placing the unit in service.
Unused products may be returned within 30 days of purchase for a refund, minus shipping charges. All boxes, packaging materials, accessories, manuals and certificates must be in new, re-sellable condition or a fee equal to the cost of the damaged and/or missing item(s) (such as manuals, documentation, and certificates) will be deducted from the refunded amount. 
Be sure to ship in a carton that protects the original item box or package. We suggest you insure the package for the full value. 
Used or damaged equipment may not be returned for a refund. 
Credits are issued after the goods are received and inspected at ThermoWorks. It may take up to two weeks to process credits.
The request for a return authorization number must be made within 30 calendar days of the purchase and the return shipment must be made promptly after that.
Note that original shipping charges are not refunded unless the return is a result of our error. If you have ordered correctly and we have shipped the wrong item, we will pay to return the item to ThermoWorks or we will send a delivery service to pickup the item at our expense.
Items missing or damaged in shipment must be reported within 2 business days of receipt of shipment.
Custom or special order products are not returnable.
No refunds on calibrations.