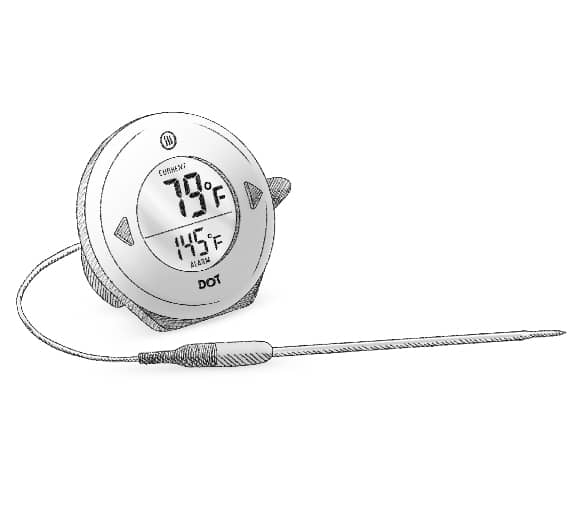 Straightforward Display: Current & alarm temp
The large display shows your current temperature and your set target temperature.

Compatible with any Pro-Series Probe
Use any of our professional-grade Pro-Series probes.

Easy-to-Use: Just 2 buttons
Set your target temp (high alarm) with the up and down buttons, insert your probe, and wait for DOT to alert you.

Splash-proof, Convenient, Design: IP65 rating & magnetic
Stick onto the oven for extra countertop space, and feel confident DOT can withstand splashes and spills.
Probe-Style Alarm Thermometer
Probe cable (47" long) survives 700°F
Big digits are seen from a distance
Now includes a backlight
Designed in Utah by ThermoWorks
DOT is engineered to do one thing really well. Set your target temperature with the up or down buttons, insert the probe in your food, and DOT beeps when it gets there. Simple as that. Hit any button and the beeping stops. The display still flashes till your temperature drops below the setpoint. DOT uses any of the Pro-Series probes designed for our popular ChefAlarm. The included 4.5-inch probe reads temperatures up to 572°F with a cable that withstands 700°F. Designed for commercial food service, DOT beats houseware brands for intuitive usability and survivability.
DOT is designed to track temperatures over an extended period of time with moderate-heat cooking methods such as smoking, oven-roasting, deep-frying, homebrewing, and Sous Vide and to be used while grilling. DOT is not meant to be used in place of a digital instant-read thermometer, such as a Thermapen ONE or a ThermoPop, or used with broiling.
Only two buttons to learn - Up and Down! No complicated programming, no flashing piggies, chickens or cows. Made for people who know what they're doing in the kitchen and who don't want to get bogged down in gadgetry or hemmed-in by someone else's "pre-programmed doneness". Set your own temperatures, faster than anything out there. When the alarm sounds, if you want you can add a few degrees just by tapping the Up button.
Use DOT for Sous Vide, roasting, baking, smoking, breads, pastries, candy making, home brewing and lots more. The included 4" probe can be used for hundreds of things but versatility is expanded with our optional Pro-Series probes. If you're international or uber-scientific, change from Fahrenheit to Celsius using the On/Off button on the rear.
DOT is a professional tool designed for commercial use. Molded-in, splash-proof seals and commercial grade plastic body survive messy kitchen hands. Includes a tilt-out stand for counter use and strong magnets for metal surfaces. Pro-Series probes last much longer than houseware probes.