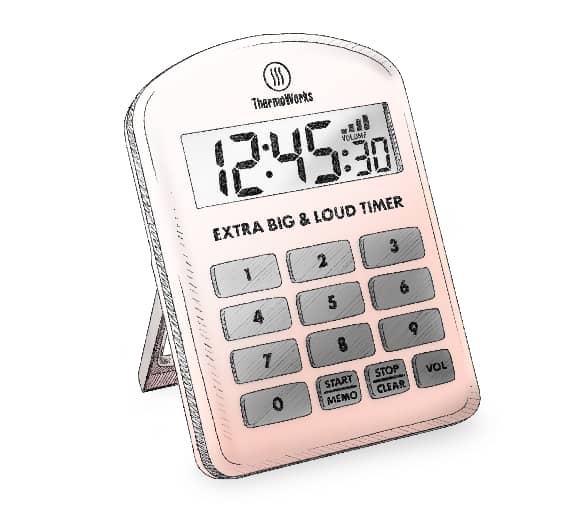 Extra Big: Stands out in your busy kitchen
Everything about this alarm is big. Big display, big buttons and a big personality. Plus, it has magnetic backing for easy visibility.
Extra Loud: Hear it in your commercial kitchen or busy household
At up to 110dB, Extra Big and Loud is guaranteed to be seen and heard, even in the loudest kitchens.
Stays Dry: Built with splash-proof housing
Splashes and spills happen, and we've prepared our Extra Big and Loud for the inevitable accident.
Adjustable Volume: Different volume levels for different environments
Choose between four different levels of sound to easily tailor our alarm to your workspace.
NEW even louder design
Available in 9 colors
Ideal for the noisy commercial kitchen
Strong magnets
Flip-out stand
Robust rubber keypad
Count-down and count-up timer
Designed in Utah by ThermoWorks

Re-invented by ThermoWorks, this all-new version of our popular Extra Big and Loud Timer includes many improvements important to commercial customers. To start we cranked up the volume to 110 decibels to get your attention even in a noisy kitchen or on the plant floor. Choose from four volume settings. The rugged housing includes molded-in seals and rubber buttons to survive years of daily use with wet fingers. Set time quickly on the numeric keypad. No tedious up/down or scrolling buttons that run past the number you want. New and stronger magnets grip the timer to a metal surface. A flip-out tilt stand is great for counter tops and a keyhole mounts the timer on a screw. We added a count-up function to track time after the alarm sounds or for timing an event from zero. The memory keeps your last count-down setting. Big digits are legible at a distance. Foodservice, industrial plants, schools and labs need not be stuck with whimpy dime-store timers. This is a true professional time instrument. Get the Extra Big and Loud Timer by ThermoWorks and you'll know when time is up, even if you're in the other room!