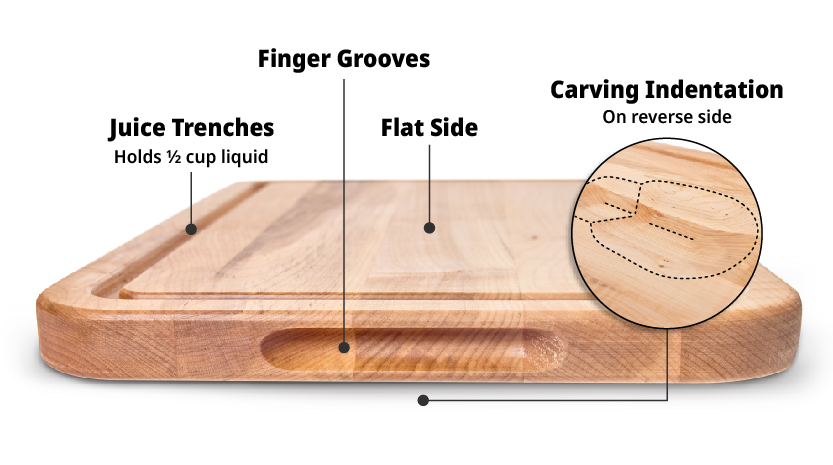 Based on America's Test Kitchen's Winner
We worked with J.K. Adams to create an exclusive Maple Reversible Carving Board. We based our design on J.K. Adams' America's Test Kitchen winning design and added a few features we wanted to see in our kitchens. We kept the features that make this a winner: juice trenches, one side flat with the other poultry shaped for turkeys, all while keeping it midweight and moderately sized.
Rectangular Shape
We had this board crafted with straight ends, making it easy to store vertically. This also maximizes surface area for slicing and carving.
Finger Grooves
We added finger grooves on the ends to make it easy to lift when you have to move the board around in the kitchen or to the table.
Juice Trenches
Each side of the reversible board features a juice groove that holds over ½ cup of liquid to prevent juices from spilling on your counter.
Reversible
Keeping the virtues that make this board a winner was key. We maintained one flat side for uninterrupted carving and chopping while the other side is indented, making it perfect for carving your Thanksgiving turkey.
Made by J.K. Adams in the USA.
We trust J.K. Adams to make durable and reliable carving boards. J.K. Adams sources only sustainably grown and harvested North American hardwoods. Made in the USA.
Specifications
Wood: Maple
Size: 20 x 14 x 1.25 inches (51 x 36 x 3.18 cm)