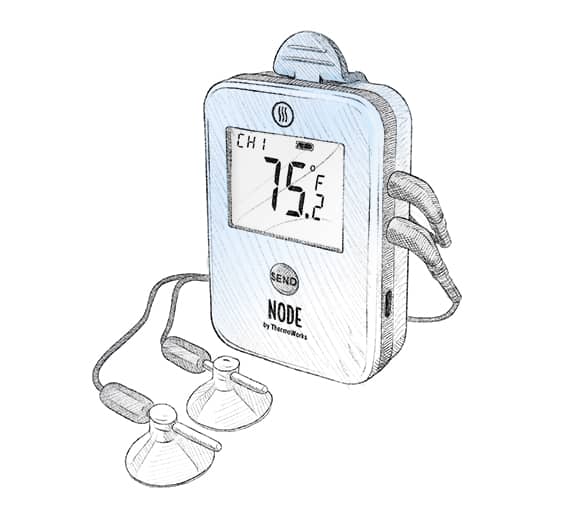 Cloud-based Worldwide Access
Track temps, Max & Min, averages, alarms and more from the ThermoWorks App on your phone or your cloud dashboard.
Easy Set Up
The app walks you through a few easy steps to connect your NODE to your Wi-Fi network right out of the box.
Instant Trigger Alerts
Set High and Low alarms for each channel and get notified on your phone as soon as something's wrong.
Rugged and Waterproof
Ready for commercial use with reinforced housing and IP66 splash-proof rating. Battery lasts about a year depending on settings.
Pro-Series Probes
Choose from ambient only or + 1 or + 2 external Pro-Series probes. Works with all Pro-Series Probes for many applications.
NODE is an exciting new entry in the Internet of Things (IOT) allowing you to monitor the temperature of anything that you care about from anywhere and receive alerts when the temperature gets too hot or too cold.
Each NODE comes with its own color-matched clip that easily mounts to the wall with powerful magnets or by screwing it in place. The included Pro-Series Probes have suction cups so they stay where you put them. Anywhere monitoring temperature is important, put a NODE there!
Access your critical temps anytime, anywhere with the ThermoWorks app on your phone. Check Max/Min temps, Avg. temps, and temperature graphs. Set session parameters and change your high and low alarms on the fly. Schedule notifications and configure your account right from the app, including customizing the names of each NODE and each channel.
Or log into a centralized temperature dashboard in the cloud and browse your history, zoom in and out of your multi-channel temperature graphs, annotate alarm events, and customize your settings. ThermoWorks cloud is fully secure and adds capacity automatically as needed so you never suffer downtime at the wrong time.
Subscribe to a Pro or Business Pro Cloud account for more features like tracking more than 5 connected thermometers at once, assigning levels of access to other team members, and receiving SMS text and email trigger alerts. Learn More