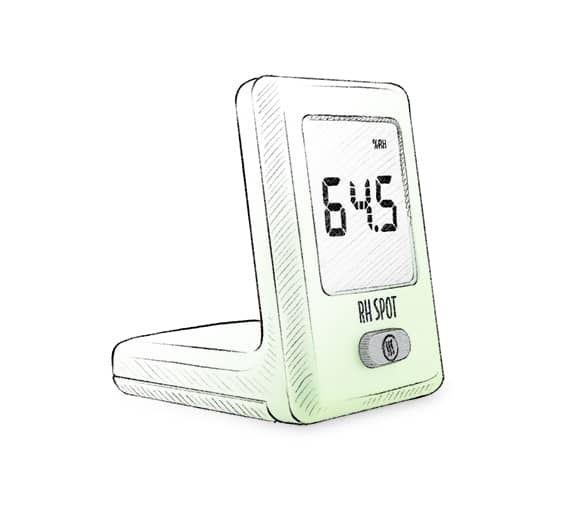 Displays Temperature & Humidity
Display toggles between ambient temperature and humidity readouts every 5 seconds so you see the current data at any given time.
MAX/MIN Data
Hold the button to cycle through the highest and lowest data points for temperature and humidity. Know if a fridge got too hot or how humid it is inside your terrarium.
Put RH SPOT Anywhere*
Rugged and water resistant (IP65), RH SPOT has a powerful magnet in its base and comes with a metal mounting plate for easy placement in those non-magnetic spots.
Easy-to-read Auto-rotating Display
RH SPOT has a huge, auto-rotating display. Attach it to walls or ceilings so it's out of the way. It's also light-activated to save battery life. Press the button for a backlight.
Verified Accuracy
Each RH SPOT comes with its own NIST-traceable calibration certificate, verifying the accuracy of both the temperature and humidity sensors.
RH SPOT is the most versatile ambient temperature and humidity thermo-hygrometer you will find. Great for fridge/freezers, wine cellars, cheese caves, meat lockers, dough proofing boxes, greenhouses, rare gun or guitar collections, humidors, food storage—basically everywhere.

*Do not place in oven