Range -58 to 158°F
°C /°F Switchable
Display Backlight
Settable High/Low Alarm
Min/Max Memory
Internal and External Temperatures
The RT801 is a great low-cost fridge/freezer thermometer. Perfect for monitoring refrigerators, freezers, coolers, chillers and all other types of cold storage systems. It's also great for aquariums, terrariums, incubators, and hundreds of other uses wherever you want to make sure an acceptable temperature range is maintained. Simply set the desired high and low alert temperatures and position the external probe in place and you've got a monitoring system for your critical environment. Use it to notify you when a desired target temperature is reached.

If your alarm limits are exceeded, an audible beep-beep sounds for 5 seconds every minute. During the alarm condition a visual indicator flashes on the screen. If the temperature returns to normal, the visual and audible alarm will stop. The Max/Min function will continue to show you the highest and lowest temperatures reached so you will know that an alarm has occurred.
Home Use
Everybody needs a couple of these at home. Track daily temperatures in the house or in the garden. Stores the high and low wherever you need it. Put one on your fridge and one on your freezer. You'll save hundreds of dollars in ruined foods. Great for aquariums and greenhouses and much more.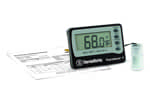 PharmAlarm 1
This commercial version of the product includes a product simulant sensor for tracking critical storage of vaccines or pharmaceuticals. Includes a NIST-traceable certificate of calibration. Go here to learn more.