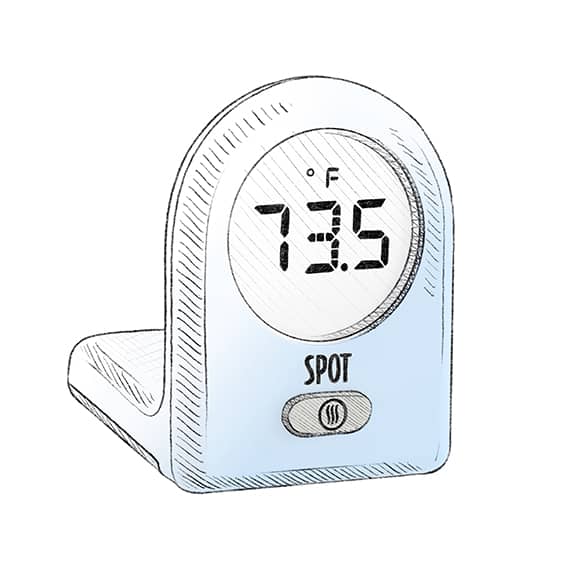 Put SPOT Anywhere
Rugged and waterproof (IP67), SPOT has a powerful magnet in its base and comes with a metal mounting plate for easy placement in those non-magnetic spots.

Easy-to-read Auto-rotating Display
SPOT's huge, auto-rotating display lets you attach SPOT to walls or ceilings so it's out of the way. It's also light-activated to save battery life. Press the button for a backlight.

MAX/MIN Temps
Hold the button to cycle through the highest and lowest temps measured, so you know if a fridge got too hot or how cold it got in your garage overnight.

Verified Accuracy
Each SPOT comes with its own NIST-traceable calibration certificate verifying its accuracy to national standards.
SPOT is the most versatile ambient thermometer you will find. Attach SPOT anywhere and everywhere with the built-in magnets and included metal mounting plate, or place it on any flat surface, including countertops and fridge racks. The auto-rotating display can be seen from any angle and be read from across the room with the large, easy-to-read digits. MAX/MIN temperatures let you track the highest and lowest temperatures read while the automatic backlight light makes it easy to see even in the dark. The display is light activated, so it only turns on when you need it, giving you over 7,000 hours of battery life. Great for fridge/freezers, walk-ins, terrariums, cheese caves, food storage, basically everywhere*. It doesn't get any easier than this.

*Do not place in oven