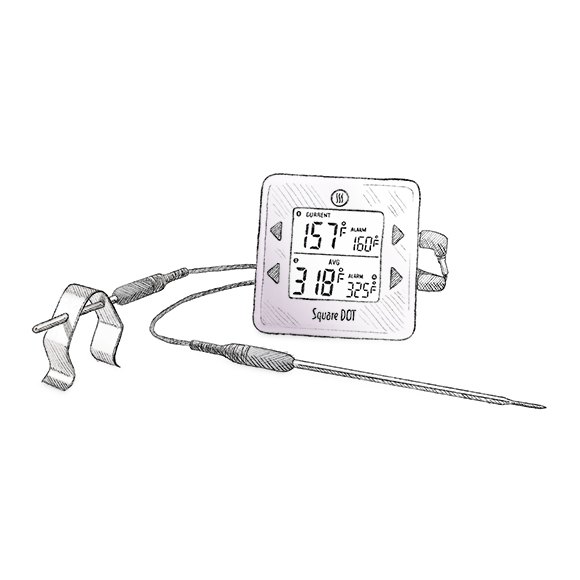 Two Channels
Measure both your food and the cooking environment with Average Mode OR set two high alarms to track two different foods while they cook.

Unbeatable Simplicity
Like with DOT, just press the Up and Down buttons to set your High Alarms for each channel. Press ANY button to activate the backlight.

Super-Rugged
Molded-in seals protect against spills, splashes, and rain. With the reinforced frame and 5,000 hours of battery life, Square DOT will be ready when you need it.

Verified Accuracy
Each Square DOT comes with its own NIST-traceable calibration certificate verifying its accuracy to national standards.
A refreshing twist on a classic, Square DOT is everything you love about DOT only now with 2 channels and an amazing new air temperature average function. Channel 1 functions as a regular alarm thermometer while Channel 2 can operate in two different modes. Average mode shows you a revolving average temperature calculation of the last 15 minutes, starting when the alarm is first reached. It's perfect for determining your average oven temperature as you cook, so you can adjust in realtime to get the most accurate results for any recipe. When average mode is disabled, Channel 2 will function as an alarm channel . Like DOT, Square DOT has big, easy-to-read digits, backlit display, ThermoWorks' signature molded-in splash-proof seals and a commercial-grade plastic body making it a durable, user-friendly tool. It comes with a fold-out stand, a magnetic back for surface mounting, a Pro-Series® penetration probe, and a Pro-Series air probe—each with cables that withstand 700°F (371°C). Square DOT also accepts any of the optional Pro-Series probes. Intended for commercial food service, Square DOT beats houseware brands for simplicity and durability.