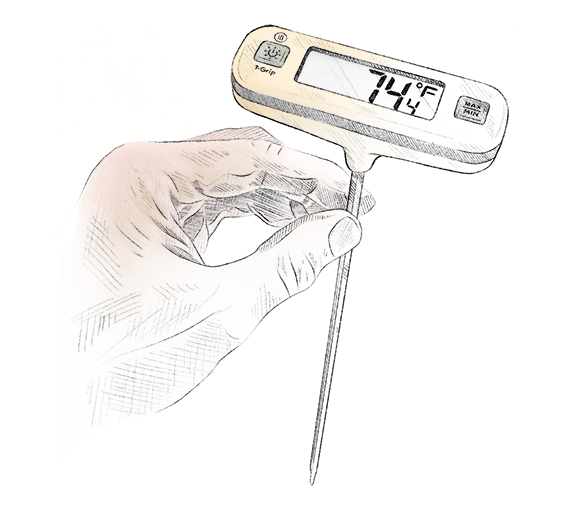 Extra Large Top Display
0.62-inch digital display on the top of the thermometer for easy reading at a glance.
Auto-Rotating Backlit Display
Backlit for low light, display automatically rotates 180 degrees so it is always right-side up.
Max/Min Temps
Cycle through recorded Max and Min temperatures with the press of a button.
Improved Accuracy
Sub-degree accuracy to ±0.9°F (±0.5°C) over much of its extended range of –58 to 572°F (–50 to 300°C).
Fully Waterproof
IP67 means it is secured against ingress from dust and water, even submersion.
T-Grip is ready for the most demanding industrial use, with its hardened plastic housing, molded-in seals, and a reinforced 0.24-inch long-stem stainless steel probe with reduced tip.
Each T-Grip is individually calibrated at 32°F (0°C) and 212°F (100°C) and comes with a 2-point NIST-traceable calibration certificate verifying its accuracy to national standards. A two-year warranty against defects and a new internal trim function making it easy to maintain performance over time.
Choose from 5-inch, 12-inch, 24-inch, or our new extra-long 36-inch probe for big batches.