Kit includes everything you need to start monitoring a walk-in cooler at your restaurant. Use your existing Wi-Fi router network to transmit and view temperature readings of your walk-in. Receive alerts via email, text, and mobile notifications when alarm limits are exceeded. The kit includes two different probe lengths. Use one probe to monitor the ambient temperature of your cooler and the other to monitor the product or other areas of your walk-in. Use the provided glycol bottles for ambient air probes to buffer readings against temporary air temperature shifts caused by opening doors or loading coolers.
Kit Contains:
(THS-298-121) ThermaData WiFi Thermocouple Logger with Wall Bracket
NIST-Traceable Calibration Certificate
(THS-113-375-T) 10-Foot Teflon Tip Wire Probe: Sensor & Cable range -58 to 482°F (-50 to 250°C)
(THS-113-374-T) 25-Foot Teflon Tip Wire Probe: Sensor & Cable range -58 to 482°F (-50 to 250°C)
(THS-830-800) Mounting Magnet
2x (TW-4050-GB) Glass Bead Thermal Buffer Bottles
2x (TW-2550-M) Thermal Buffer Mounting Kits

ThermaData Wi-Fi loggers are battery powered for up to 1-year of typical use. Set your preferred logging interval and alarm limits to get email and text alerts in real-time. If transmission is interrupted, store up to 18,000 readings (9,000 per channel) on board for later download. Each logger is outfitted with an intuitive big-digit LCD screen displaying temperature, Wi-Fi connection status, Max/Min, memory status, alarm condition, and remaining battery.
ThermaData Wi-Fi loggers are rugged, durable, and splashproof. They are easy to install and connect. The free ThermaData Studio software allows you to monitor all your ThermaData loggers from one centralized dashboard, even from multiple locations, and be notified immediately of any alarm conditions. Get the peace of mind that comes from knowing your data is secure, accessible from anywhere, and archived for HACCP compliance. Try a ThermaData Wi-Fi logger in your kitchen.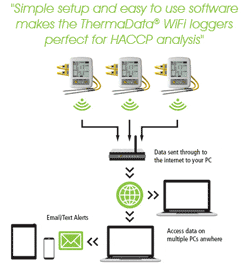 How does the ThermaData Wi-Fi logger work?
Using the unique ID of each logger ThermaData Studio creates a secure connection between logger and software which can be accessed and viewed anytime and anywhere with an internet connection. Each logger communicates directly to the Wi-Fi router at set intervals to push data through the internet into ThermaData Studio. The information is available to be analyzed and exported into a report format.
ThermaData Studio Software
Both powerful and sophisticated, yet user-friendly, the ThermaData Studio software enables temperature data to be organized and analyzed to provide management information.
The ThermaData Studio software has the ability to display up to 32 traces on a graph, the trace colors are user selectable. All files can be viewed as thumbnail icons for easy identification.
The software allows the user to program the logging sample/interval rate (0.1 to 330 minutes), communication interval (sync) with PC, real-time clock, °C or °F and a manual start option. It is also possible to include a user ID for each logger.