Range to -80°C for ultra-low freezers
Meets VFC/CDC requirements for vaccine storage
Uses type T thermocouples (included) for high performance
Buffered temperature probes for stable readings
System accuracy to ±1.1°F (±0.6°C), meter and probes
Wireless connectivity using existing Wi-Fi network
Includes NIST-Traceable calibration certificate
Email, text, and mobile alerts when alarm limits exceeded
Access temperature data worldwide via internet
Programmable high/low alarm
User friendly, simple setup
No cradles, gateways, or cloud storage fees
Resolution of 0.1 °C/°F
Access your critical temperature data from anywhere in the world with our new ThermaData Wi-Fi Loggers. Use your existing Wi-Fi router network with no additional gateways or repeaters, to transmit and view temperature readings of your valuable vaccines. Each logger comes with a 2-point Accredited UKAS calibration certificate to certify its accuracy. Temperature probes are buffered in food-safe glycol for stability.

ThermaData WiFi loggers are battery powered for up to 1-year of typical use. Set your preferred logging interval and alarm limits to get email and text alerts in real-time. If transmission is interrupted, store up to 18,000 readings (9,000 per channel) on board for later download. Each logger is outfitted with an intuitive big-digit LCD screen displaying temperature, Wi-Fi connection status, Max/Min, memory status, alarm condition, and remaining battery.
ThermaData WiFi loggers are rugged, durable, and splashproof. They are easy to install and connect. The free ThermaData Studio software allows you to monitor all your ThermaData loggers from one centralized dashboard, even from multiple locations, and be notified immediately of any alarm conditions. Get the peace of mind that comes from knowing your data is secure, accessible from anywhere, and archived for HACCP compliance. Try a ThermaData WiFi logger in your kitchen.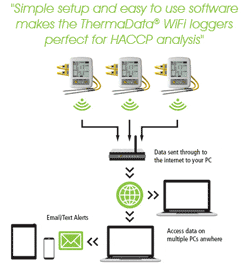 How does the ThermaData WiFi logger work?
Using the unique ID of each logger ThermaData Studio creates a secure connection between logger and software which can be accessed and viewed anytime and anywhere with an internet connection. Each logger communicates directly to the Wi-Fi router at set intervals to push data through the internet into ThermaData Studio. The information is available to be analyzed and exported into a report format.
ThermaData Studio Software
Both powerful and sophisticated, yet user-friendly, the ThermaData Studio software enables temperature data to be organized and analyzed to provide management information.
The ThermaData Studio software has the ability to display up to 32 traces on a graph, the trace colors are user selectable. All files can be viewed as thumbnail icons for easy identification.
The software allows the user to program the logging sample/interval rate (0.1 to 330 minutes), communication interval (sync) with PC, real-time clock, °C or °F and a manual start option. It is also possible to include a user ID for each logger.