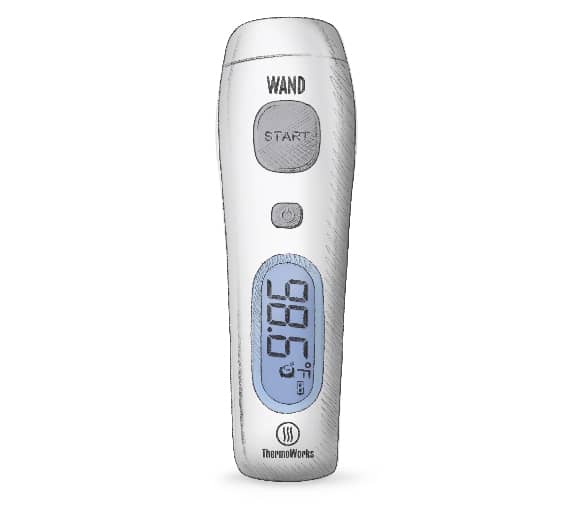 Infrared Technology: No-touch temperature readings
Safely get temperature readings with zero contact necessary. Simple and sanitary.

High Accuracy: Blows the competition away
WAND is accurate to ±0.4°F across the range of human temperatures.

FDA-Cleared*: Monitor your health with confidence
WAND is a Professional Class II medical device cleared for safe use on both adults and children.

Easy to Use: Turn it on and press a button
Takes temperature readings with the touch of a button. No setup required. Big bold backlit display.

Soft "Ready" Beep: Confirms your reading
Take the temperature of your sleeping child without disturbance, or mute the "ready" beep all together.
*ThermoWorks Wand Thermometer measures infrared energy radiated from the skin at the center of the forehead area. This captured energy is collected through the lens and converted to a body temperature value (displays oral equivalent temperature).
Thanks to large quantity savings and reduced transportation costs, we are passing along a cost reduction on the ThermoWorks WAND Forehead Thermometer. Already one of our biggest sellers, we are now producing volumes that give us some significant savings. While we believe that WAND was a great professional value at the previous price, going forward we are excited to save our customers some money!
---
One-second readings
WAND digital forehead thermometer is suitable for temperature screening in homes, hospitals, businesses, warehouses, schools, and physical examination centers.
Gives accurate, consistent oral-equivalent results for all ages
Surface mode for surface temps of other common items
High temperature alert and mute setting
Bright LED backlight
Stores 25 readings
WAND non-contact forehead thermometer gives you proven accuracy when you need it most. Simple to use with readings in 1 second means you get the important information you need quickly.
* ThermoWorks WAND holds an FDA device registration number and has the designation FDA-Cleared. WAND is categorized as a Class II medical device under the category listing 'Thermometer, Electronic, Clinical'. The FDA-Approval designation is only given to Class III products like drugs, pacemakers, and vaccines that pose a higher risk to humans, and require a different level of testing and approval. Class I and II products are not tested to the same level and are "cleared".
ThermoWorks WAND gives you proven accuracy when you need it most. Take adult and child forehead temps quickly with no-touch infrared technology for safety and hygiene. No need to disturb a sleeping child. Simply hold the unit about an inch away from the center of the forehead, press Start and in 1 second you'll have an accurate reading. No waiting.
The blue backlight makes temperatures easy to read, even in the dark. WAND stores your last 25 readings for easy recall. Automatically reads "oral equivalent" temperatures. Change to surface mode and measure surface temps of other common items to 176°F (80°C).
ThermoWorks has already helped tens of thousands of school districts, universities, restaurants, offices, plants, non-profits, clinics and government agencies across the nation to screen staff and patrons for a safe return to business. With so much riding on keeping your operations safe, don't mess around with second best. Put your trust in ThermoWorks.