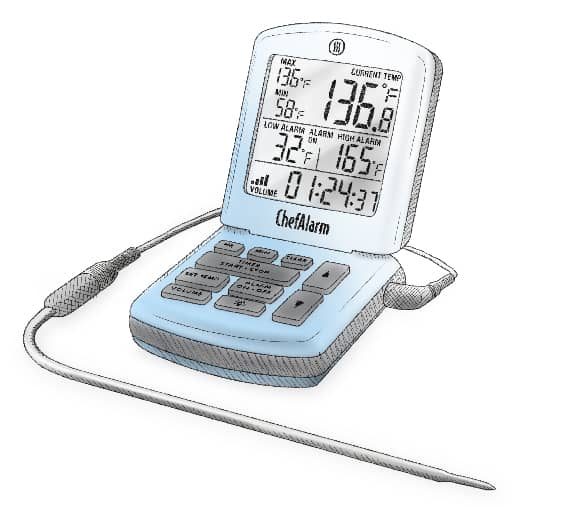 Big, Bold Display: View all temperature data at once
Zero squinting necessary with large text on this info-rich display, including your min/max temperature.

High/Low Alarms: Set and walk away
The high alarm alerts you when you've reached your desired temperature. The low alarm (first of its kind) is great for monitoring cool dishes.

Loud Timer: Adjustable Settings to 92dB
Set your alarm volume to match your environment, with 4 different volume settings.

Splashproof: IP65
Perfect for a commercial kitchen setting or the messy at-home cook.
Uses Pro-Series® temperature probes
Includes Pro-Series High Temp Cooking Probe with cable to 700°F max temp
Includes count-down and count-up timer
Really big digits and a backlight
Available in 9 colors
Designed in Utah by ThermoWorks
The ChefAlarm professional oven thermometer has been Rated #1 by a leading Cook's Magazine. Designed for commercial use, ChefAlarm delivers features not found in "houseware" cooking alarms. Continuous Min/Max display tells you how hot (or cold) your food got when you weren't looking. A "High Alarm" sounds when your food reaches your setting, and a first-of-its-kind "Low Alarm" is perfect for making yogurt and other cold dishes. Adjustable alarm volume can be heard in a noisy restaurant kitchen.
ChefAlarm is designed to track temperatures over an extended period of time with moderate-heat cooking methods such as smoking, oven-roasting, deep-frying, homebrewing, and Sous Vide and to be used while grilling. ChefAlarm is not meant to be used in place of a digital instant-read thermometer, such as a Thermapen ONE or a ThermoPop, or used with broiling.
The main temperature digits are big and easy-to-see from a distance. Touch the backlight button to read the display in the dark. New from the factory, ChefAlarm reads within ±2°F so you should never need a calibration adjustment but the CAL feature can be used for fine-tuning your accuracy to better than ±1°F. Fold ChefAlarm flat and use the magnetic back on a metal surface or tilt the display up and use it on a counter. Only ThermoWorks offers the new Pro-Series Temperature Probes. Built for robust commercial use, they are more accurate, faster and more moisture-resistant than any other alarm probes. ChefAlarm comes with one Pro-Series High Temp Cooking Probe that measures to 572°F with a cable that withstands 700°F short term exposure. Coupled with a molded transition to the Stainless Steel tube, this probe survives commercial cooking use longer than consumer probes. Replacements are still affordable. Every kitchen should have at least one ChefAlarm.