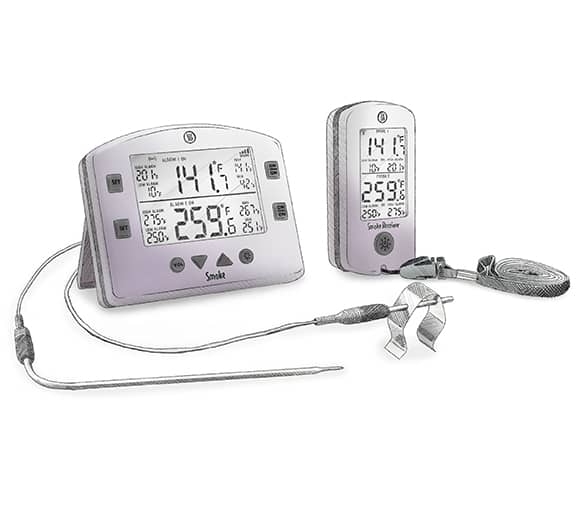 Remote Thermometer: Up to 300 feet away
View all of your temp data from the comfort of your home on the pre-paired receiver. Add optional receivers for the whole team.
2-Channels: Compatible with any Pro-Series® probe
One probe for the meat, one for the pit, or add a second cooking probe and track two meats simultaneously.
Dashboard-Style Display: Shows Min/Max & High/Low
All the info you need, displayed at once. No fumbling with buttons necessary.
Splashproof rugged housing: Rated to IP65
Molded-in seals for splashproof protection and built for rough handling.
Designed for competition BBQ teams and professional chefs, Smoke outlasts and outperforms every competitor. Not a cheaply-made housewares product, Smoke features a rugged housing with molded-in seals for splashproof protection. Smoke uses Pro-Series Probes which are interchangeable with Smoke, ChefAlarm®, and DOT®. See frequently asked questions in the More Info section.
Smoke is designed to track temperatures over an extended period of time with moderate-heat cooking methods such as smoking, oven-roasting, deep-frying, homebrewing, and Sous Vide and to be used while grilling. Smoke is not meant to be used in place of a digital instant-read thermometer, such as a Thermapen ONE or a ThermoPop, or used with broiling.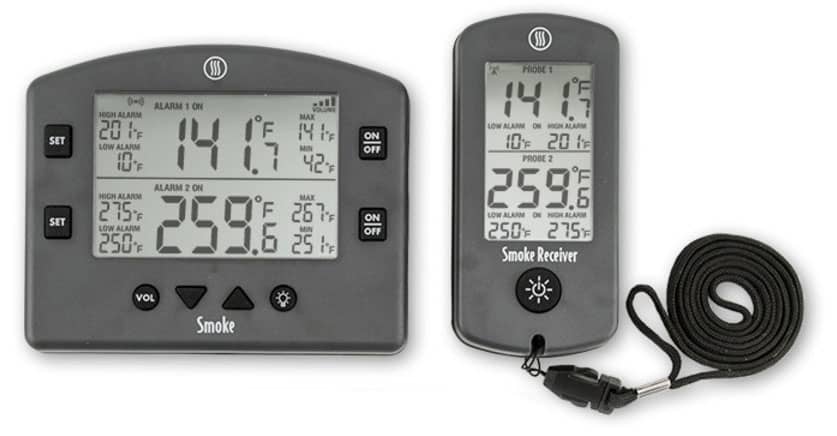 Dual Channel
Accepts two probes, one for the meat and one for the pit. Tracks each probe independently with settable high and low alarms. Probes included.
Commercial Quality
Uses commercial-grade Pro-Series probes for better accuracy, faster response and longer life than cheaply-made housewares probes.
Water Resistant
Molded-in seals for splashproof protection, safe for outdoor use.
Extended Wireless Range
Wireless range to 300-feet gives you freedom to roam.
Large Backlit Dashboard-Like Display
Large digits viewable from a distance with backlight for low light conditions. Min/Max and Hi/Low alarms always displayed at-a-glance.
Extra Long Battery Life
2 x AA's power Smoke with super long 1,800 hour battery life. Never run out during a long cook.
Smoke Receiver
Comes pre-paired out of the box. Beeps and vibrates at alarm. Displays temperatures and alarm settings on large LCD screen. Pair as many Receivers as you want to one Smoke.
Designed in Utah by ThermoWorks